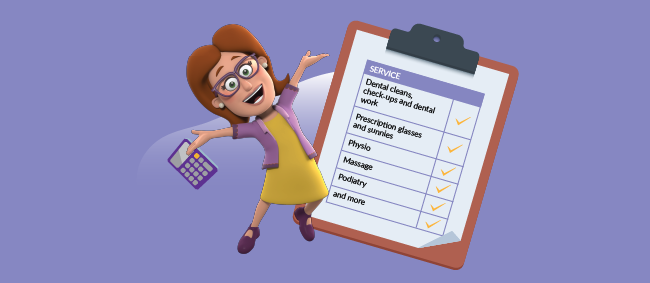 Money doesn't grow on trees, we know. Sometimes it feels like everywhere you turn is another bill or expense, and the idea of adding another one to the mix can be overwhelming.
But have you considered how much not having extras cover could be costing you?
We know from talking to our members that health insurance can feel out of reach sometimes, and it can seem like a tempting expense to cut. But that can be false economy in the long run.
It's important to know that there are many options when it comes to health insurance and, for those times when money is tight, it is possible to take out extras cover only. That way, you reduce the cost, but you're still covered for a range of health services you might need throughout the year, such as optical, physio, dental and podiatry.
If you wear glasses, get the occasional massage, or visit the dentist for your regular check-up and clean (please tell us you're not skipping the dentist!), those expenses can easily add up. That's where extras cover can help.
Union Health extras cover
You can take out extras cover with Union Health from about $10 a week, for singles (rates depend on your income and where you live). And that small outlay – about the same as buying your lunch one day a week – can get you over $4000 worth of health services (based on mid-range extras product), including the all-important dental cover and optical cover.
How do we deliver so much value for that small cost? We're 100 per cent member-owned, so we return all our profits to our members. We're all about fairer health care for all Australian union members - past and present.
By acting in the best interests of our members instead of shareholders, we're focused on what really matters – you and your wellbeing.
What are the extras covered?
The extras covered will depend on the level of cover you take out, but all Union Health extras policies include what we consider to be essentials. We're talking preventative dental, general dental, optical, and a range of therapies, including physio, osteo, massage and psychology.
It's important to note that extras cover DOES NOT cover you for hospital admissions or procedures - you would need special hospital cover for that.
If at some point you want a higher level of extras cover, you can upgrade to a cover that includes services like orthodontics, dietetics, speech therapy, occupational therapy and hearing aids.
Whatever your health care needs – from preventative to chronic condition management – there's an extras cover for you.
Extras cover no waiting period
As an added bonus, if you join Union Health and mention this article, we'll waive the regular two-and six-month waiting periods on extras, so you can go and choose those glasses or book that dental check-up straight away.*
Not sure which cover's best for you? Our no-commission consultants can help you find the level of cover that's best for your life and your budget right now.
Click here to book a call back, or phone 1300 661 283 today.

*Not valid with any other offer.